One of my favorite parts about summer is cooking some of our meals outside! There's nothing quite like walking around the campground and taking in all the incredible smells coming from the grills at various campsites.
RVs can heat up quickly during the summer, especially if you're doing any cooking indoors. There are tons of options when it comes to tools you can use for outdoor cooking though. One of our favorites is the Blackstone Griddle because you can cook just about anything on it from breakfast to steaks and even pizzas!
This post contains affiliate links. If you make a purchase through one of our links we may make a small commission at no extra charge to you. Thanks!
Something that's always welcome in our household is a pizza night. We love kicking back after a long week, grabbing a slice of pizza, and watching a movie. As I was trying to think of some different griddle recipes that I could try out this summer, it hit me. Why not do a flatbread pizza on the grill (Or in our case griddle. You can do it either way)?
You could totally do the traditional pizza toppings: cheese, pepperoni, sausage, etc. But if I was going to go to the effort of making a homemade pizza I wanted to take it up a notch!
I actually came up with several recipe ideas but narrowed it down to two – yep you're getting two recipes in one blog post! To me there are a few things that scream summer. BBQ, pineapples, and jalapeño poppers are just a few of my personal favorites. So I decided to incorporate my favorite summer foods into a flatbread pizza grilled up on the Blackstone Griddle. 
The steps for making the Jalapeño Popper and BBQ Chicken flatbread are pretty similar with just a few slight variations. I'm all about camping food made easy so I just bought pre-made flatbreads at the store. You could make your own if you prefer that though! Below you can find the ingredients and instructions to make these tasty Blackstone griddle pizzas. They'd be perfect as an appetizer or a main course!
Jalapeno Popper Flatbread Pizza
Flatbread of your choice (I like Stonefire Artisan Flatbreads. You could also use naan bread too). 
3-4 oz. cream cheese, softened 
2 oz. shaved Parmesan 
3 oz. shredded sharp white cheddar cheese
2-4 slices of bacon cooked and crumbled
2-3 large jalapeños, sliced
As much or as little fresh cilantro as you'd like to add 
 1. Get your grill or griddle heating up. While you're waiting you can pull out your ingredients to get everything setup. 
2. Fry your bacon. Is there anything better than the sound of bacon sizzling?? 😋
3. While your bacon is cooking, slice up your jalapeños. 
4. When your bacon is done, lay it on some paper towels to cool and then crumble it up. 
5. Toast your flatbread. Unless you like your pizza super crispy or burnt I would suggest toasting the top (where your toppings will go) before flipping it over and adding the toppings. This should only take about a minute or two. Just get it nice and golden.
6. Remove your flatbread from the griddle and spread the cream cheese on. 
7. Return the flatbread to the grill/griddle and top with cheddar, parmesan, bacon and sliced jalapeños. Leave on until bottom of flatbread is toasted and cheese on top is melted. Sprinkle with some chopped cilantro if you'd like, slice and serve.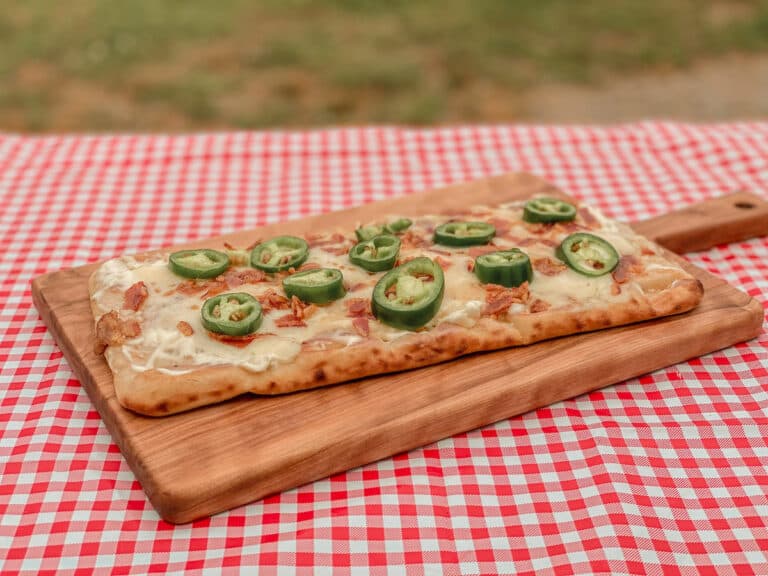 BBQ Chicken Flatbread Pizza
Flatbread of your choice (I like Stonefire Artisan Flatbreads. You could also use naan bread too). 
2-3 chicken tenders (can use chicken breast instead if needed)
1 tbsp brown sugar 
1 tsp chili powder
1 tsp cumin
1 tsp garlic powder
1 tsp onion powder
1 tsp paprika
1 tsp salt
 1/2-1 cup Colby Jack cheese, shredded (to be honest I didn't measure just sprinkled on until it covered the pizza)
About 1/4 cup of your favorite barbecue sauce (again, I didn't measure )
1/4 – 1/2 cup freshly diced pineapple
1/4 cup red onions, diced
 1. Heat up your grill or griddle. You can even make these inside in your oven too if you prefer. 
2. While grill is heating up, add brown sugar and all the spices in a bowl and mix to combine. Rub both sides of chicken tenders with the spice mixture. 
3. Grill tenders about 4 minutes each size or until they reach a minimum temperature of 165 degrees. I love using this thermometer to make sure our food is cooked to the correct temp. When the chicken is done. Let rest a few minutes and then slice up into smaller pieces. 
4. As chicken is cooking, chop pineapple and red onion. If there is room on the griddle go ahead and start grilling ups your pineapple and onion. 
5. Toast your flatbread. Toast the top first and then flip over (Each side will need just a few minutes. I like my pizza crust golden brown but you can add more or less time depending on your preference). 
6. Spread barbecue sauce on top of flatbread, sprinkle with cheese, and top with chicken, pineapples, and red onion. 
7. Cook until cheese is nice and melty. Remove from griddle, slice and serve. 
If you get the chance to try my recipe out be sure to let me know how it turns out. These are definitely going to become a go to camp recipe for us this summer! If you're looking for some more summer inspiration and ideas to try, check out our Summer Vibes Blogger Roundup for more DIY's, tips and recipes.