Aside from a small storage unit filled with some sentimental items, everything we own is inside our 40 foot fifth wheel. Just because our home has wheels and can move doesn't mean we don't worry about it getting broken into or things getting stolen. Now, we've never had a problem with this, but we have stayed in a few sketchy places and were glad we had our cameras setup to give us a peace of mind. So what can you do to to protect your home on wheels?? Keep reading to find out or watch a video about our system here! 
*This post may contain affiliate links. As an Amazon Associate, I earn from qualifying purchases. I may receive a small commission when you make a purchase using my links at no extra cost to you. Thanks for your support!
Did you know that there are a handful of keys that can open just about any RV? That means your neighbor or someone that happens to have the same key as you can get into your RV. The reason many manufacturers key the RV doors alike is so that salespeople can easily show multiple units to interested buyers without having to carry around a dozen different keys. The most popular key seems to be CH751. If you're like me, you might be a little uneasy knowing other campers could have access to your rig. So, one of the first things we did when we purchased our RV was change the locks. There are several different options out there but we went with The RV Lock. The RV lock features a keyless entry keypad + wireless fobs to lock and unlock the door. The install was fairly simple and pretty straightforward. Their locks fit most fifth wheels, travel trailers, and class c & a motorhomes.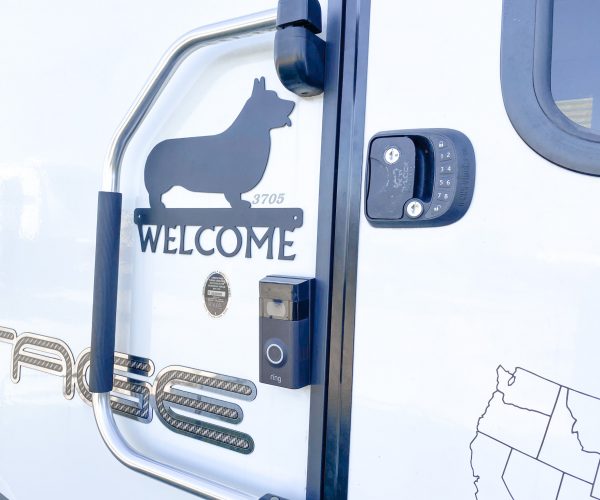 We get a lot of packages in the mail. Sometimes at RV parks you can get mail delivered straight to your door, other times it goes to the office, or very particular parks don't allow you to receive packages or have a fee to receive the package on your behalf. All this to say having a doorbell with a camera is nice to have because you can see exactly when your package is delivered to your doorstep (we used this a ton when we were stationary the first few months of living in the RV). The Ring Doorbell we have includes motion detection, customizable motion zones, real time notifications, and a live view option too. It's also nice to see ahead of time who might be at our door, especially when we aren't expecting anyone. We used super strong double sided adhesive to put up the doorbell. I think the only times we've taken it down have been to change the batteries. It's been all over the country with us and so far so good! 👌🏼
Another thing you can do to protect your home on wheels from a potential burglar is adding lights! We've added 4 Solar Pathlights and 10 Solar Steplights to our setup. The Pathlights are awesome because you can arrange them on your campsite as you please. They shine 80 lumens of white light onto the walkway when motion is detected. I love this because if we get home late and our awning light isn't turned on, these turn on automatically so we're not stumbling around in the dark trying to get to the door. The Steplights we added to the sides of our RV. We have 4 on each side and one in both the back and front. The Steplights shine up to 50 lumens of light downward. Again, makes it nice if we need to get something out of storage at night. They come on when motion is detected or you can set them to stay on for a certain amount of time.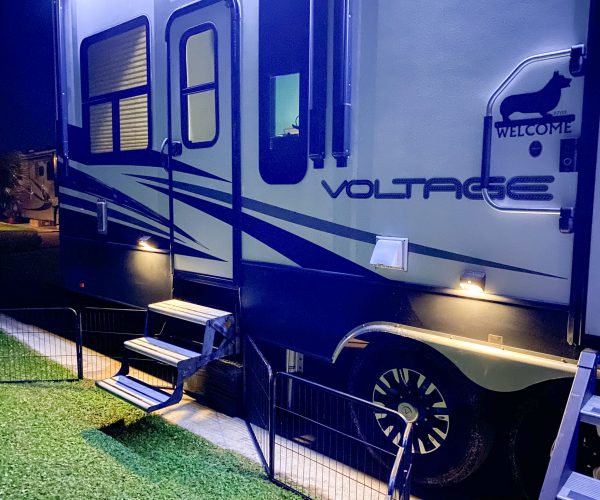 Probably one of the most important things you can add to protect your home is a camera! We have two of Ring's Spotlight Cam Solar. One is clamped to our ladder at the rear driver's side of the RV. The other one is at the opposite passenger's side near the front. These cameras can use solar to recharge (also comes with a rechargeable battery pack), record in 1080 HD and have night vision. It has a 140 degree field of view with motion detection and customizable motion zones. Having these cameras up would be helpful too in the event that someone were to hit our truck or trailer. Some of these RV parks can be really tight so it's nice to have something recording if there was ever an accident. 
5. Get a ferocious guard dog to attack any intruders
That about wraps it up for our outdoor security setup! What do you think? Are we crazy, have just enough or is there something we're missing??