Tomorrow is October 1st 😱 I feel like I say it all too often but this year has flown by! Fall has arrived and I am here for it 🙌🏼 Bring on the cozy sweaters, nights by the fire, fuzzy blankets, and allllll the coffee (not that coffee is exclusive to fall just another good excuse to drink even more)! I always look forward to the comfy, cozy vibes that fall brings.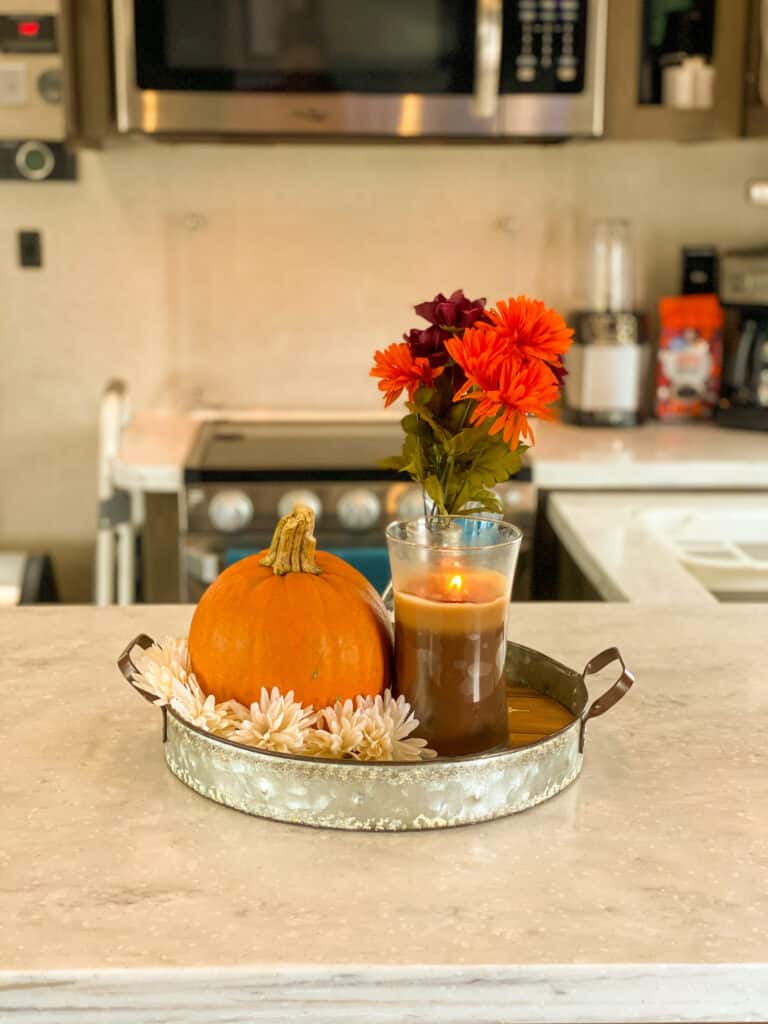 For me, fall brings along one of my favorite things to do… baking! Making and baking sweet treats brings back fond childhood memories of doing that exact thing with my sisters and mom. I'd been having a craving for a pumpkin dessert so it seemed like the perfect time to whip up this classic pumpkin roll! I excitedly ran to the grocery store to pick up all my ingredients, when to my surprise, the store was already sold out of pumpkin puree! 🤦🏻‍♀️ Well, I was already bound and determined to make this treat, so I picked up a pie pumpkin and decided to make my own puree. This part is totally optional if you're able to find canned pumpkin. I just thought I'd include it in case you found yourself in a pickle too! Plus, if you make your own puree, you can save the pumpkin seeds and roast them for a healthy snack. One small pumpkin gave me more than enough pumpkin for this recipe.  
So what are you waiting for? Grab your ingredients and get baking!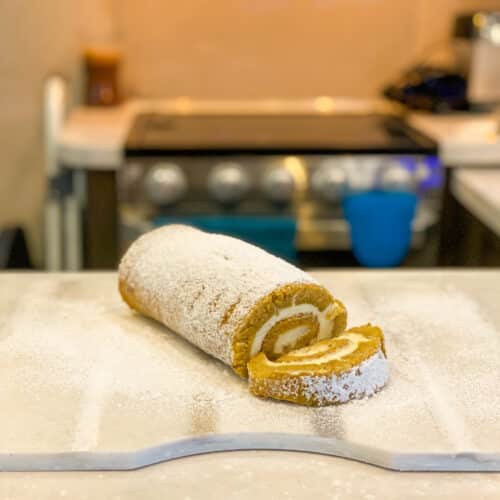 Pumpkin Cheesecake Roll
This pumpkin cheesecake roll, a personal fall favorite of mine, is made with pumpkin cake and an irresistible cream cheese filling. It's actually easier than you'd think to make. The trickiest part is rolling the cake without it cracking!
Ingredients
For The Cake
1

cup

Sugar

3/4

cup

All-Purpose Flour

1/2

tsp

Salt

1

tsp

Baking Soda

1/2

tsp

Pumpkin Spice

3

Large Eggs

2/3

cup

Pumpkin Puree

Powdered Sugar (for rolling)

Cooking Spray
For The Filling
12

oz

Cream Cheese

1

tbsp

Salted Butter (melted)

1

tsp

Vanilla Extract

1 1/4

cup

Powdered Sugar
Instructions
Make the Pumpkin Puree
If your grocery store was sold out of pumpkin puree like me and you're making your own start here. Otherwise, you can skip down to cake instructions. Start by cutting the top off your pie pumpkin and then slicing in half.

Scoop and scrape the seeds from the center (save the seeds so you can roast those!). Slice into smaller chunks and bake in a 350 degree oven for 45 minutes. The pumpkin pieces will be tender and light golden brown when finished.

Peel off the skin from the pumpkin pieces

For this next step you have a few options. You can either use a food processor, blender, or simply use a potato masher. I used my blender but did need to use just a tiny bit of water.

Pulse until smooth. I ended up having more than enough from the one pumpkin I used. You can either save the extra for other treats by storing in the fridge or even freezing for later!
Make the Cake
Preheat oven to 350°. Line a 15" x 10" jelly roll pan with parchment and grease with cooking spray.

Combine dry ingredients in a bowl.

In a separate bowl, combine sugar and eggs. Once combined add in pumpkin puree.

Spread into prepared pan and bake until a toothpick inserted in center of cake comes out clean, 15 minutes. Layout a clean kitchen towel (I used cheese cloth) and dust with powdered sugar. When cake is done baking, flip onto kitchen towel and gently peel off parchment paper. Note: This part is tricky and it's super easy to rip the cake!

Gently but tightly roll cake into a log. Let cool completely.
Make the Filling
In a large bowl, combine cream cheese, melted butter, vanilla, and powdered sugar. Using a hand mixer, whip until smooth.

When cake is cooled, unroll gently and spread with cream cheese filling.

Roll back up and dust with more powdered sugar

Slice, serve, and enjoy!! To store your pumpkin roll: wrap tightly in plastic wrap. Can be stored in fridge up to 5 days or freezer about 3 months!
When you're done, grab a slice and curl up with a coffee and blanket and relax!
Make sure to save this recipe for later! If you give it a try, let me know how it turned out!
AND… If you want even more fall recipes or DIY's make sure to check out some of the other bloggers I've teamed up with this week to bring you a new craft or recipe each day this week (9/27-10/3)
This post contains affiliate links. If you make a purchase through one of our links we may make a small commission at no extra charge to you. Thanks!