Great Smoky Mountains National Park is the nation's most visited national park. The park is home to a diverse group of plants and animals, boasts over 800 miles of hiking trails, 2,900 miles of streams,  and more than 90 historic structures preserved by the park. The Smokies really have something for everyone to do from hiking, fishing, taking scenic drives, and even chasing waterfalls. It's no wonder that more than 10 million people visit the Smoky Mountains every year. An added bonus is that it's my favorite price… FREE! 
This was our second time visiting the Smokies. The first time we visited back in 2017 we stopped in the area as we were passing through for 2 days. We really didn't get much of a chance to explore or hike on that first trip. That first trip we started out grabbing breakfast at Crockett's Breakfast Camp and then heading over to Ober Gatlinburg (more on that in a bit because we went back on this trip!).  We also rented a UTV and drove around Cade's Cove. Cade's Cove is a gorgeous area but it can get a little boring when you're stuck in traffic on the one way loop. We decided to skip that this time. Since we had more time to spend in the area this time around, we knew we wanted to get in some good hikes but also do some of the touristy stuff too! 
This post contains affiliate links. If you make a purchase through one of our links we may make a small commission at no extra charge to you. Thanks!
Our first day was spent going to visitors centers so we could plan our adventures (because of course we do things last minute and kinda wing it most of the time). The RV resort we were staying at was in Sevierville so we made our way over to Gatlinburg and first stopped at the Gatlinburg Welcome Center. Right after we parked the truck we got out and started to head toward the welcome center when two bears started walking through the parking lot! 😱 We were so excited! It was the first time either of us had seen bears in the wild (if you can call the visitors center parking lot wild 😂). We were a bit nervous but our truck was just steps away if we needed to get in. Luckily, the bears minded their business and attempted, unsuccessfully, to get into some trash cans and continued on up the road. We went in grabbed some pamphlets and continued on.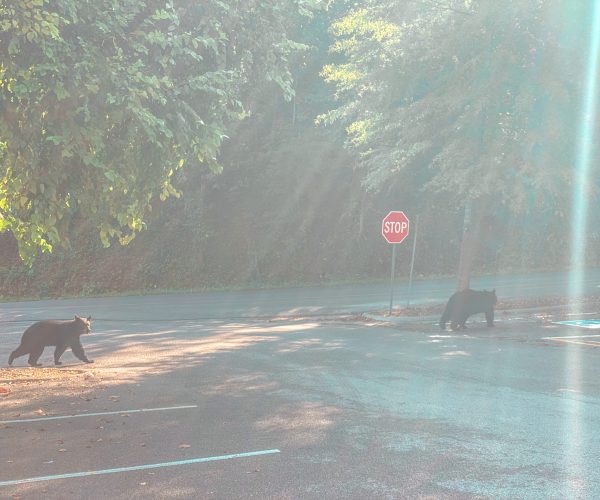 Next stop was the Sugarlands Visitor Center inside the national park. They are only allowing so many people inside the visitors center at a time because of covid. You have to wait in a line outside until it's your turn to go in. They have signs along the line with suggestions for hikes or drives if you're looking to see or do particular things. Inside you are required to wear a mask and you can pick up a map and talk to a park ranger if you wish. The gift shop was open so we picked up a magnet to add to our collection!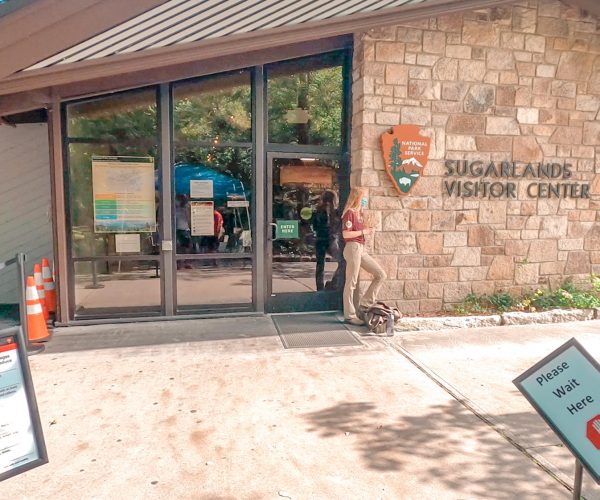 By this point we were getting hungry! We had skipped breakfast so we decided to do brunch
If you've been to Gatlinburg before, you know how crazy it can be! There were literally lines wrapped around some of the restaurants (on a week day)
So we kept driving until we found something that looked good in Pigeon Forge. We ended up at Red Rooster Pancake House (you'll see a big rooster outside the restaurant). We ordered the caramel peach pancakes and the breakfast burrito skillet. We like to split our food in half so we can each try a little of both dishes (especially when we're at new restaurants). This worked perfectly here as we had the savory burrito first and finished with a sweet dessert of pancakes. Also, has anyone ever noticed how many pancake houses there are in Gatlinburg/Pigeon Forge?? They're all always hoppin too!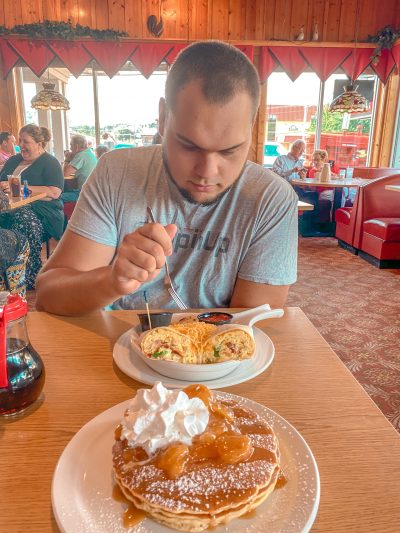 After lunch, Philp said we were going somewhere but refused to tell me where. He kept giving me hints and clues but I could not figure it out! And then we pulled up to Pigeon Forge Snow and suddenly all the crazy clues made sense 🤣 We were going indoor snow tubing! I never actually knew this was a thing before we went and I was a little concerned I would be cold in my shorts and t-shirt (it was like 80 degrees out 😅) but they keep the temperature inside 60-70 degrees so we were fine! It's kind of crazy to me that they have REAL SNOW inside but still have it at a comfortable temperature. For $22 you get a full hour of tubing and for $8 you can do 30 minutes of snow play. We just did the tubing and had a blast! We visited on a Monday afternoon and nearly had the place to ourselves. I lost track of how many times we went down because there was no line to wait in. We just kept going down and then riding the conveyor belt back to the top and going again. It was definitely worth the price and was the perfect way to experience some snow for some southerners like us 😂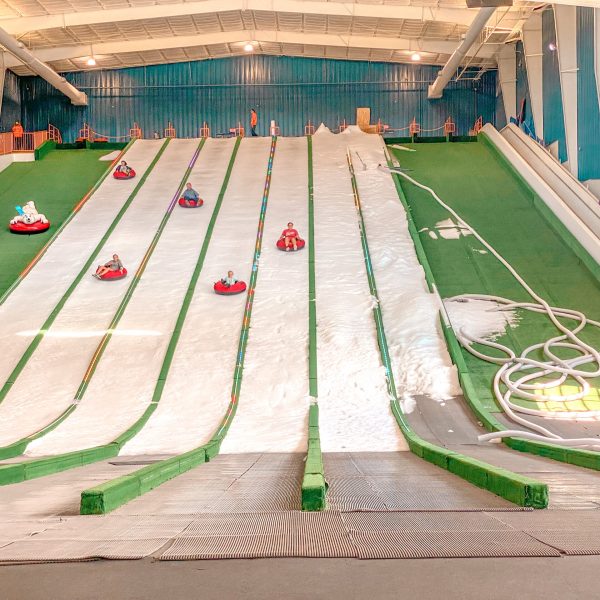 Once we were done tubing, we headed back to the RV to relax and hangout for the rest of the day. I was checking Instagram when I saw something that looked familiar. When I looked closer I realized the post I was looking at was from the same RV resort we were staying at. We had recently started following Michael and Kris on Instagram and this was actually their first trip out with their RV! We went over to their RV to say hi and ended up chatting with them for awhile! It's so fun to run into Instagram friends in real life! 😆 
Sadly, we were rained out of our original plans so we took the day to relax and get some things done around the RV. It happened to be National Coffee Day so we decided to take the golf cart across the street to Smoky Mountain Espresso  and grab some drinks. And yes, we even took the golf cart through the drive through! Even though it was cold and raining Philip got a frozen hot chocolate. He loved it so much he got it a second time we went later on in the week. I wanted something to warm me up so I got a  turtle mocha. Later in the week I also tried the frozen smoky mountain mocha! If you end up staying at the Ridge Outdoor Resort in Sevierville you've gotta try a cup of coffee from this place right across the street!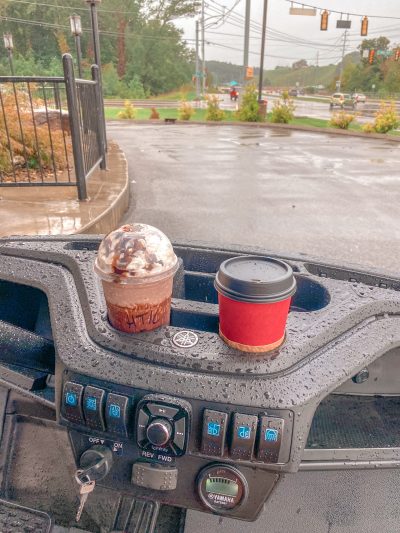 Alright y'all this is the day Philip was probably most excited for… the Polaris Slingshot rental 🙌🏼😆 He's been wanting to drive one of these babies for a long time and we finally made his dream come true! We rented the slingshot for 10 hours from Mountain Life UTV Rentals in Gatlinburg. They also have several types of UTV rentals available too. The slingshot we rented was a manual transmission so if you plan to rent there keep that in mind! In Tennessee the slingshot is considered a motorcycle so we were required to wear helmets. Not cute but safety first!
Our rental started at 9am. We first grabbed some breakfast and headed for Clingmans Dome. Clingmans Dome is on the border of Tennessee and North Carolina and is the tallest point in Tennessee, the Great Smoky Mountains National Park, and the highest point along the Appalachian Trail. The trail to the top is paved and only a half mile. Sounds easy right? Well, it's extremely steep and was a little more challenging than we expected. The views from the top were amazing though and totally worth the hike!
There are so many overlooks to and from Clingmans Dome, we found ourselves constantly wanting to pull over to take in the views. Newfound Gap is not far from Clingmans Dome but the parking lot was completely full so we kept moving. Honestly, you can drive just about anywhere in the smokies and find some amazing views. After driving for a bit we headed back to the RV to let the dogs out for a quick potty break and to relax for a few minutes. 
On our way back to the national park we decided to stop in at Rowdy Bear Mountain. This adventure park features a gravity propelled alpine coaster where you get to control the speed. It reaches speeds of up to 35 mph but felt much faster than that! Philip and I both agreed that at a few points we felt like we were going to fly right off the tracks! 😬 Rowdy Bear Mountain is also home to the "world's first mountain glider". The best way I can describe the glider is that it's a mix between zip lining, hang gliding, and kind of free falling if that makes sense? It was definitely an interesting experience and I was holding on for dear life the whole time. For $32 a person we each got 2 rides on the alpine coaster and 1 ride on the mountain glider. 
We had seen earlier at the Sugarlands Visitors Center that there was a short hike near the center to a waterfall. The trail to Cataract Falls is only .75 roundtrip and is super flat with no elevation gain. This is a trail anyone can do and it took us hardly any time to reach the waterfall. I'd say if you're already in the area it's worth checking out!
We then drove from the visitors center to the Laurel Falls trailhead. The Laurel Falls trail is a moderately rated 2.6 miles roundtrip. This was my personal favorite hike we did on the is trip to the smokies. Laurel Falls is an 80 foot high waterfall that's divided into an upper and lower section. The falls are divided by a walkway that crosses the stream at the base of the upper falls. The trail is paved but is rough and uneven with a steep grade. We had fun looking for pops of fall colors beginning to come in and there are a few peaks of the mountains here and there along the hike. Highly recommend hitting this trail when you visit! 🙌🏼 
Our rental was almost up so we decided to head on back so we could refill the gas and return it on time. If you have visited Gatlinburg before, you know the traffic in the area can be insane. We were stuck in traffic for awhile but had fun jamming to music and watching all the people walking around downtown. We placed a to go order at a restaurant called Aubrey's not too far from the campground in Sevierville. The rest of the evening was spent resting and relaxing at home after our long day of adventures. 
We saw that Ober Gatlinburg was having an Oktoberfest event going on while we were visiting and we enjoyed our last visit to Ober Gatlinburg so we decided to go again! Plus we love German food and some buttery pretzels were calling our name! 
Now there are a few ways you can get to Ober Gatlinburg. You can either park in downtown Gatlinburg and take the aerial tramway to the top. Or you can drive directly to the top and park in their paid parking lot. We had previously taken the tramway and it's a great way to see some amazing views! I suggest doing this if you've never done it before. Since we had already done it once, we decided to save some $$$ and just drive to the top (parking is $10 per vehicle). 
I'm not quite sure how to best describe Ober Gatlinburg, but it's basically a whole bunch of attractions in one. They have an alpine slide, scenic chair lift, mountain coaster, wildlife encounter, ice skating, ice bumper cars, and a whole bunch of other fun activities as well as seasonal activities such as water slides in the summer and skiing in the winter. You can either choose to buy each activity individually or buy an all inclusive pass. There was quite a bit we wanted to do so we went the pass route. 
We were really excited to eat some tasty German food! Their Oktoberfest featured food, fun and music. The Smoky Mountain Oompah Band performs traditional Bavarian folk dances, yodels, and sing alongs daily. I loved how all the employees were dressed up in traditional lederhosen, dresses & dirndls. It definitely made the atmosphere more festive! For a place that is German named and themed we were really excited for the food. Have I already mentioned that?? 😂 However, we were really disappointed with it. We ordered pretzels & cheese, schnitzel, and frikadelle. We were expecting warm, fresh buttery pretzels, and instead we got reheated frozen pretzels 😑 This was probably the most disappointing part! We had high expectations and were a bit let down. But we were able to snag some freshly made fudge before we left! 😋 Overall, I'd say go for the attractions and not the food! The views at the top of the chair lift are gorgeous! 😍 
We woke up early to hit the Roaring Fork Motor Nature Trail and more specifically the Grillium Gap Trail to Grotto Falls. The nature trail is a 5.5. mile one way narrow loop road that winds it's way through the forest, past rushing streams, and offers stops at historic structures. There are many places along the loop to stop and pull over to take in the streams or the historic sites.
There are two trails you can get out and hike along this loop. The first you'll come across is the Rainbow Falls Trail and the Second is Grotto Falls. We decided to do Grotto Falls. We arrived early enough that we were able to grab an actual parking spot (parking is very limited!). The hike was fairly easy and is 2.6 miles roundtrip to the waterfall (the trail actually continues on up to Mt. LeConte if you feel like doing a longer hike – about 14 miles roundtrip). Grotto Falls stands at 25 feet tall and is the only waterfall visitors can walk behind in the park. You can hear the power of the water as it gushes above you falling into the pool below. We actually spent a good amount of time sitting down stream just listening to the water. The smokies really have some of the most beautiful streams and falls around. 
We actually ended up spending about 2 weeks in the Smoky Mountains but Philip took 5 days off of work so that's when we did the majority of our exploring. East Tennessee is such gorgeous area that made leaving really difficult. But, I'm sure we'll be back again! Have you been to the smokies? What was your favorite thing you did there?