Grapevine Hills Trail, also known as Balanced Rock in Big Bend National Park is my favorite desert hike in the entire park! It's a short and sweet family-friendly hike that kids and adults of all ages will love. Most of the hike is relatively flat with a short rock scramble at the last section of the trail. Hikers will be rewarded with the view of the Balanced Rock formation at the end. The group of boulders are delicately balanced on each other. You can even walk right under it for views stunning views of the desert and hills surrounding. 
This post contains affiliate links. If you make a purchase through one of our links we may make a small commission at no extra charge to you. Thanks!
Getting to the Grapevine Hills Trailhead
To get to the Grapevine Hills Trailhead, you'll turn off of Gano Springs Road onto Grapevine Spring. This is a "maintained gravel/dirt road". It's definitely rough in several patches but do-able even for smaller vehicles (although an SUV or high clearance vehicle is preferred). Just take your time and go slow. You'll be on this road for about 6.3 miles. Make sure to add extra time for this road as it's pretty slow going. 
You'll want to keep in mind that there are no restrooms at the trailhead, so plan accordingly. The Panther Junction and Chisos Basin Visitor Centers are close by if you need to make a stop before or after your hike. I was drinking a lot of water on the way and well, the bumpy road kinda took a toll on my bladder… For the full story check out my Instagram post below. Learn from my mistake people!
You'll arrive at a small parking lot off to the right of the road. There is a sign marking the start of the trailhead. 
It's best to hike to Balanced Rock either in the morning or evening. There is little to no shade on the trail.
Bring a hat, sunscreen, and lots of water! As I just mentioned there is no shade and this is considered a desert hike. 
While the boulders look super fun to climb on, keep an eye out for snakes!
Hiking to Balanced Rock Big Bend
The majority of the Grapevine Hills trail follows a flat gravel wash. There are huge boulders surrounding the trail pretty much the entire hike. The scenery made me feel as though I had been transported back in time when dinosaurs still roamed the Earth! In fact, over 90 species of dinosaurs have been discovered at Big Bend National Park. There is even a Fossil Discovery Exhibit in the park if you're interested in learning more. 
The last quarter mile of the trail is where the fun starts to happen, get ready to climb! The trail starts to climb steeply up the rocks/boulders. You may even get to do some rock scrambling over the larger boulders. It can be a little tricky to tell where the trail goes at times but keep an eye out for the metal signs that point you in the right direction. As you're climbing up the Balanced Rock will be off to the right. You can't miss it, it's huge!
We packed a picnic lunch in our cooler, so we sat in the shade of a boulder and relaxed, ate, and enjoyed our views. Enjoy it while it lasts, this is about the only shaded area during the hike.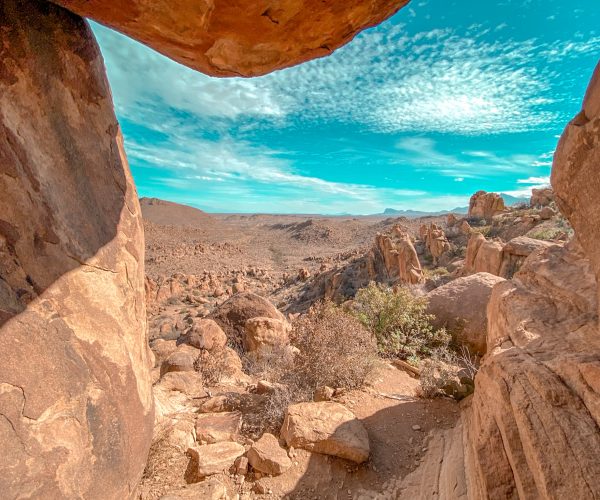 Philip enjoyed climbing up some of the boulders around Balanced Rock. You can even walk right under it to see more amazing desert beauty. When you're ready to return back, you'll follow the same path out as you took in. Make sure to stop before you head down and see how far you came! I could just barely see our truck off in the distance.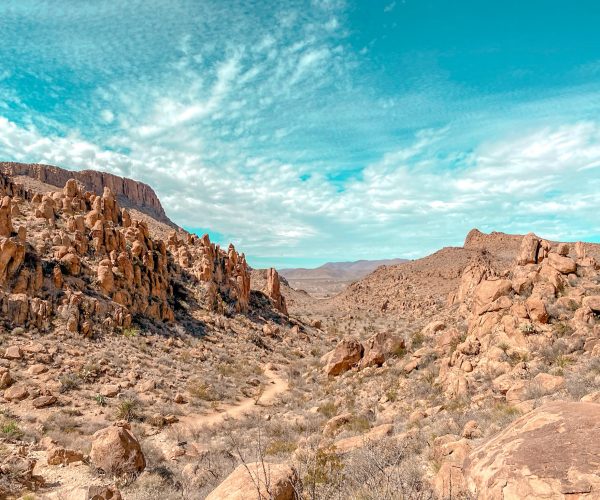 We really enjoyed this hike! It's a great one to do if you don't have a ton of time to spend in the park. It's quick and not too difficult. Perfect for hikers of all skill levels. If you're looking for more hikes to do in Big Bend, be sure to check out some of my other hiking guides and information about the park below. 
More Big Bend National Park Information
Big Bend NPS Hiking Information