The Rio Grande is one of the focal points in Big Bend National Park. In fact, the river forms the border between the United States and Mexico and is what gives Texas its unique shape. The bend in the Rio Grande is actually where Big Bend National Park gets its name from!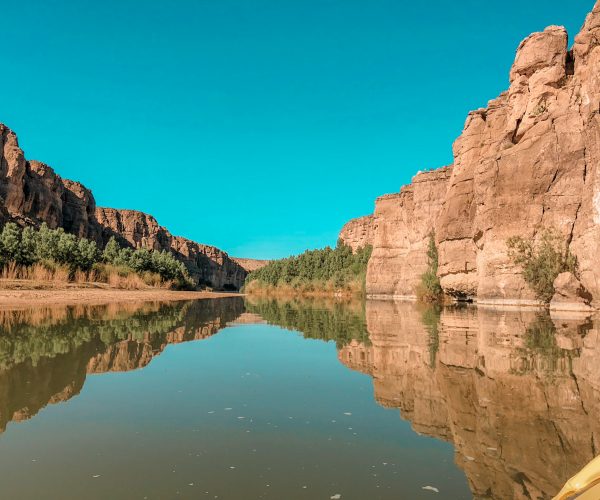 While there are certainly many hikes you don't want to miss out on in the park, you'll definitely want to add floating the Rio Grande to your list of must-do's when you visit Big Bend! Kayaking or canoeing down the river can give you access to some more remote sections of the park that are more difficult to reach on foot. Whether you bring your own boat, or take a trip with one of the local outfitters, this is an experience you won't soon forget. 
This post contains affiliate links. If you make a purchase through one of our links we may make a small commission at no extra charge to you. Thanks!
If you have your own kayak or canoe you can bring it along on your trip! There are several different areas you can put in at inside the park. We decided to kayak the day after we did a big hike so we could still do something fun but wouldn't require us to work our legs so much. 
We were staying at the Rio Grande Village Campground and there happened to be a launch area right by our campground. It worked out perfectly! We paddled upstream first and were amazed by the huge cliffs that surrounded us. We saw a man herding goats over on the Mexico side and even a cute mule that was looking to get some food from us. Another popular spot you could kayak would be Santa Elena Canyon (or some of the other canyons too). We saw several canoes taking off while we were hiking the trail.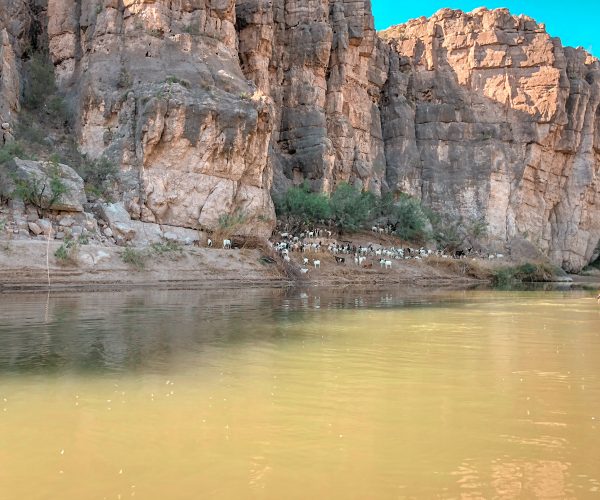 Before Watercraft is Placed in Water
You must obtain a backcountry use permit before operating a watercraft on the Rio Grande within Big Bend National Park and for trips on the Rio Grande Wild and Scenic River downstream from the park. Permits are available at the Chisos Basin or Panther Junction Visitor Centers. Obtaining the permit is a pretty easy process. The park ranger asked about where we planned to kayak, which days, and ensured we had all the required equipment.
Required Gear for River Trips
PFD – A USCG personal flotation device is required for each person.
Extra PFD per group 
Extra Paddles – Each vessel needs an extra paddle or oar
Safe Load – Don't carry more weight or people than your boat can handle.
Patch Kit – If you'll be traveling through any major canyons you'll need to carry a pump and patch kit. 
For overnight/multi-day trips you'll also need:
Waste Systems – Appropriate waste systems include: personal chemical bagged waste containment systems, or a RV dump station compatible waste system. 
Fire Pan – Fire Pan must have a 2 inch minimum rim. Fires must be contained to these pans and any unused charcoal carried out. 
For additional information about permits and required gear, be sure to check out the National Park's website here. 
River Trips with a Local Outfitter
If you don't have your own equipment or would prefer to take a guided river trip, there are several outfitters in the Terlingua area that provide rentals and guided tours. During peak season, many of these rentals and tours get booked up in advance so it's best to schedule ahead of time if possible.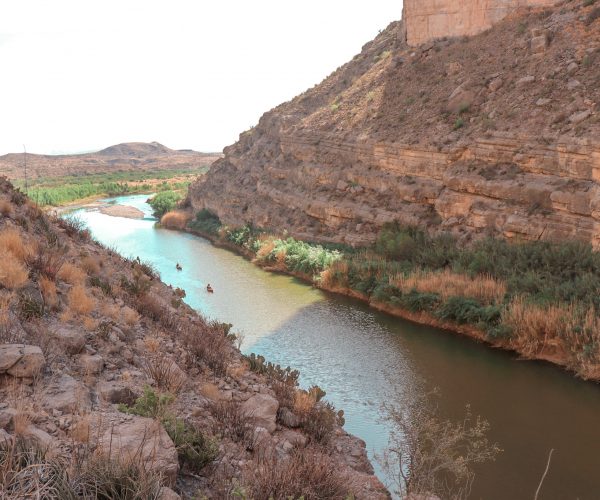 The advantage to booking with an outfitter vs. doing it yourself is that they're out on the water pretty much every day and are super familiar with the area, water levels, routes/things to look out for and have all the gear you will need. They also offer shuttles which is awesome if you're have just one vehicle in your household like we do. This means you won't have to paddle and then turn around like we did! 
Additionally, several of these outfitters also offer other types of guided trips including: hiking, mountain biking, jeep, and ATV tours. 
Many of these outfitters have been operating in the area for a long time. They have extensive knowledge about the Big Bend region and have so much to offer. We haven't personally used any of these companies since we brought our own kayaks. Please do your research so you can find a tour/trip/guide that meets your needs. 
Additional Gear to Bring on a River Trip
Swimsuit and/or quick drying clothes
Water sport sandals or shoes (love my Teva's!)
Lightweight sun protective clothing
Hat/visor & sunglasses 
Gear List (outside of the required items)
Cooler stocked with plenty of water and food! 
Sunscreen
Strap for glasses / sunglasses (a must if you wear prescription glasses! I may have some experience with losing my glasses to a river… kayaking when you can't see is not the most fun experience.)
Insect repellent 
Lightweight towel – CGear makes a great lightweight, sand free towel. 
Waterproof phone pouch – I like the ones that have a strap so you can wear it around your neck. 
Dry bag to stick all your gear in – Just in case you flip your boat. We've used this backpack for years and it's great for hiking too. 
Camera gear – We like to keep it simple but we do enjoy bringing our GoPro Max because it's Waterproof and shoots 360 footage of everything around you. We put this on our helmet when whitewater rafting in NC and it made for some awesome footage. 
Kayaking the Rio Grande was so much fun! (Plus, our sore legs thanked us for giving them a break). Doing an overnight or multi day kayaking trip is officially on my Big Bend bucket list. I think camping out under the stars along the river with no one else around sounds just perfect. 
More Big Bend Information