The Great Smoky Mountains National Park is the most visited park in the NPS system, and for good reason too! The Smokies have no entrance fee and there are tons of roads for scenic drives with gorgeous stops and lookouts along the way. This makes the national park accessible for people of all ages and skill levels.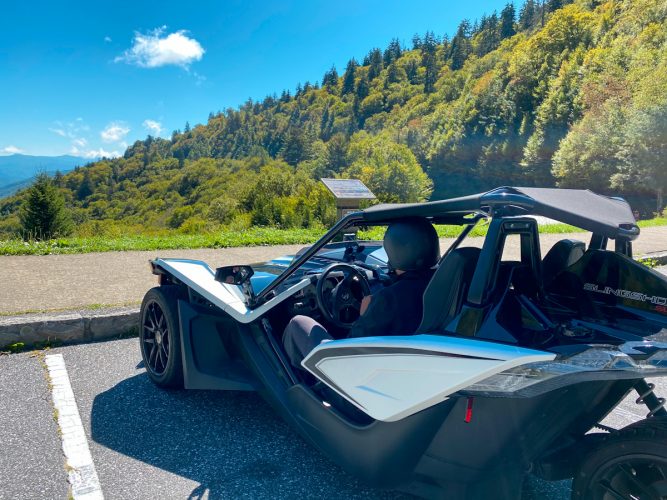 An advantage the Great Smoky Mountains has over other national parks is its proximity to nearby towns which include: Gatlinburg, Pigeon Forge, and Sevierville areas. The park also has a wide variety of hiking trails (over 800 miles of trails) so there is a trail suitable for just about everyone looking to explore the park and enjoy the beauty the Great Smoky Mountains offer.
If you're visiting Gatlinburg and looking to get some hiking in, continue reading for our favorite short hikes in the Smoky Mountains!
This post may contain affiliate links. As an Amazon Associate I earn from qualifying purchases. I may receive a small commission when you make a purchase using my links at no extra cost to you. Thanks for your support! 
Best Time To Visit The Smoky Mountains
Fall is a great time to visit the Great Smoky Mountains! September through mid November is a great time to visit with October being the most popular month. During this time, you'll begin seeing the leaves change from green to vibrant shades of red, orange, and yellows. The temperatures are typically cool but the air is nice and crisp. If you plan to go hiking or spend a significant amount of time outside, you'll definitely want to have layers you can add on or take off depending on your elevation and the weather. 
Spring can be very unpredictable with its rain and summer will be pretty hot and humid. Winter may also be a good time to visit but snow is possible so you'll need to keep an eye on road conditions!
Fall is the best time of year to visit Gatlinburg and the Smokies for the weather but this also means traffic and crowds will be higher. No matter what time of year you visit, you'll be sure to have a blast in this area.
Great Smoky Mountains Basic Information
There is no entrance fee to enter the park. A quick stop at the visitor centers to grab a basic map of the area and get suggestions from park rangers is a good idea!
Traffic can be a problem in the park so plan accordingly. Parking at some of the trailheads can be limited so it's best to go early or later in the day to avoid crowds. 
Use the Gatlinburg Bypass to avoid traffic in town on your way to or from the national park.
Black bears roam the park and sightings are not uncommon. Know what to do if you come across a bear and be aware of your surroundings while you're hiking.
Bring plenty of water and food while hiking and any other necessities depending on the season (sunscreen, warm layers, etc.)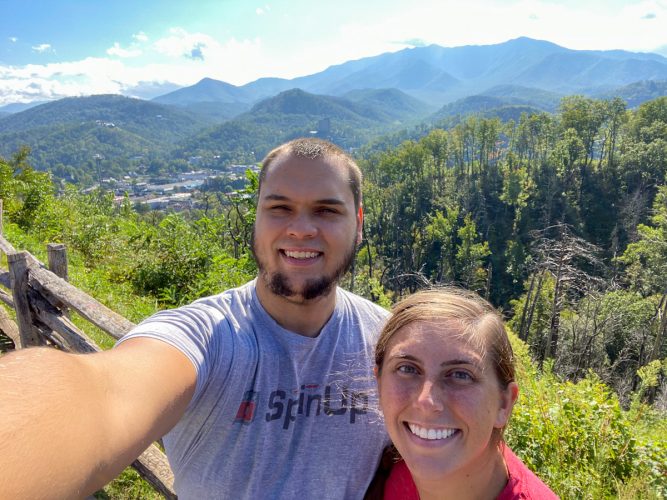 5 Great Short Hikes To Do In Great Smoky Mountain National Park
Located only about 10 minutes from downtown Gatlinburg, the trailhead begins directly to the left of the Sugarlands Visitor Center (if you're looking at it directly from the parking lot). It's a quick, easy hike that's suitable for families with young kids or elderly adults and is a great hike to get out of the car and stretch your legs.
The trail is mostly flat, aside from a small set of stairs near the falls, and follows Fighting Creek for a majority of the hike. As you come upon the falls you'll notice it's divided into two sections of falls, totaling about 25 feet.
It's important to note that during drier times the falls water flow is minimal or none at all. Cataract Falls are most impressive following a period of rain.
Overall, it's a good hike if you already plan to stop at the visitor center or if you have people in your group that may struggle with longer hikes.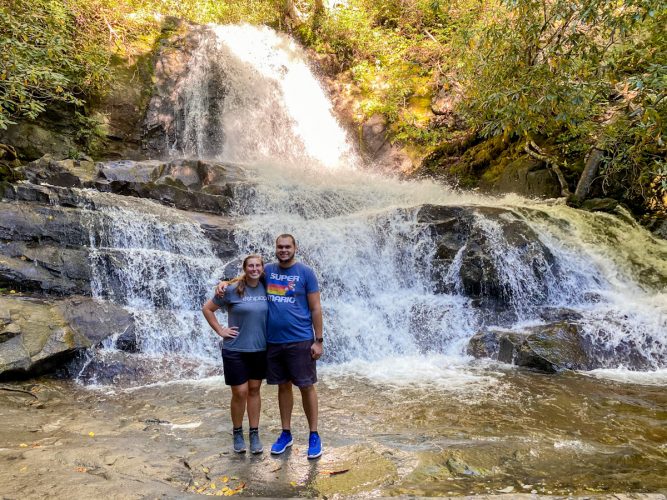 Laurel Falls is a great trail for hikers who love a pay off at the end or half way point. The two-tiered Laurel Falls total 80 feet and have a bridge crossing between the sets of falls so you can get up close and personal with the upper fall.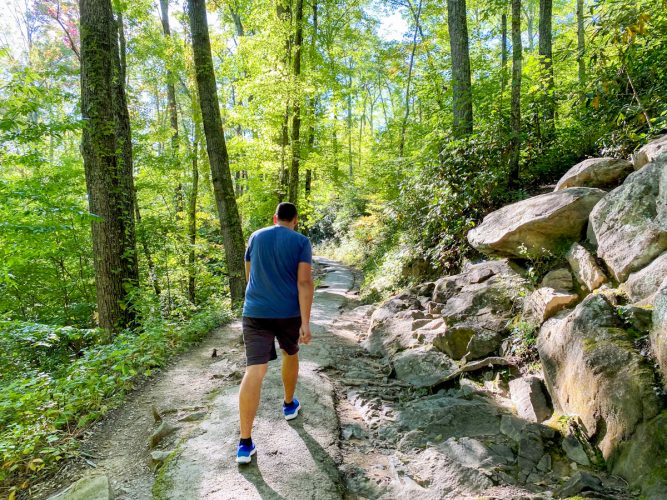 Although the trail is paved, don't let this fool you. It is quite steep and uneven in areas so you'll have to exert yourself a little more than the previous hike we mentioned. This is one of the more popular hikes in the Smoky Mountains so I'd suggest starting in the late afternoon or early evening for fewer crowds. 
At 6,643 feet, Clingmans Dome is the highest peak in the Smokies and the third highest east of the Mississippi. You'll walk a steep half mile up a paved path to the 54 foot observation tower for a 360-degree view of the park.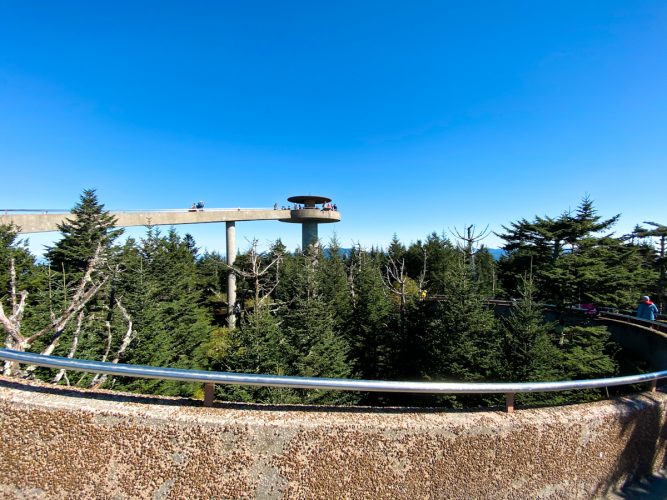 The visibility from the top can be hit or miss depending on the day and time you visit. But… if you get lucky, you'll be rewarded with some spectacular views of the Smoky Mountains after your trek to the top. Again, this is one of the more popular trails in the park and parking is limited so plan to arrive early in the morning or later in the day.
It's worth noting that although this is a paved trail, bikes and pets are not allowed and the incline is too steep to be wheel chair accessible. 
Distance: 2.6 miles roundtrip
Starting Point: Trillium Gap Trailhead (along the Roaring Fork Motor Nature Trail)
Difficulty: Easy
A popular hike off the Roaring Fork Motor Nature Trail, Grotto Falls is a magical place perfect for hikers short on time looking for an easy way to dip their toes into the lush landscape of the Smokies.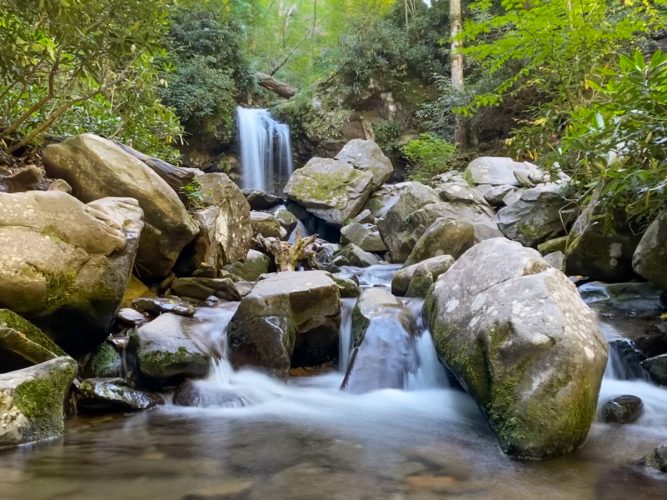 You'll start off at the Trillium Gap Trailhead which you'll follow about 1.3 miles to Grotto Falls. The trail is mostly packed dirt and climbs steadily uphill. Although there is an incline, the elevation gain is pretty minimal making it a good hike for all ages and fitness levels. 
Since this is a highly trafficked trail, you'll most likely be met with crowds, but if you wait long enough you'll be able to snag a picture with no-one in it. There are many boulders and rocks to sit and relax on while you admire the falls.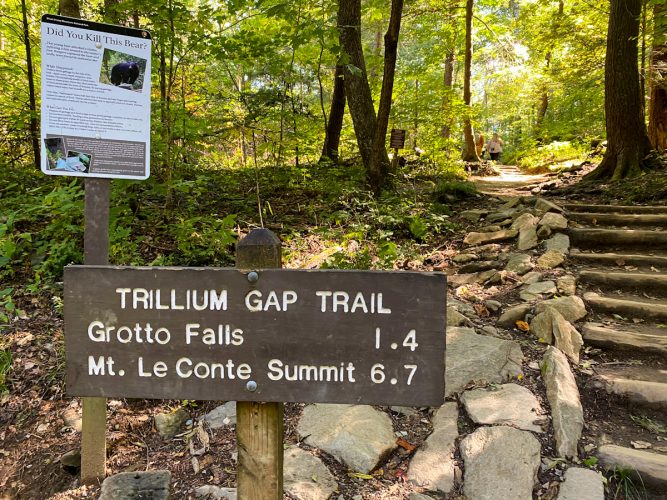 The thing that makes this waterfall so unique is the fact that you're able to walk behind the falls as the water plunges into the pool below. This was probably my favorite hike we did and I felt so at peace watching the water fall and the stream flow while I sat and rested.
If you have more time or are feeling more adventurous, you can continue to follow the Trillium Gap trail to Mount LeConte for a roundtrip length of 13.9 miles. Or checkout one of the other hikes along the motor nature trail. There are also neat spots to pull over and get out along the Roaring Fork Motor Nature trail. This wooden aqueduct and mill (pictured below) was a neat place to stop after our hike.
*** Additional notes: The Roaring Fork Motor Nature Trail is a narrow, winding one way 5.5 mile loop. Buses, motorhomes, and trailers are not permitted on the motor nature trail. 
Distance: 3.9 miles roundtrip
Starting Point: Maintenance Yard near Sugarlands Visitor Center
Difficulty: Easy
I've not personally done this hike but thought it was worth including because of it's proximity to town / visitors center and for the fact that it's one of only two trails in the park that allows bikes and dogs.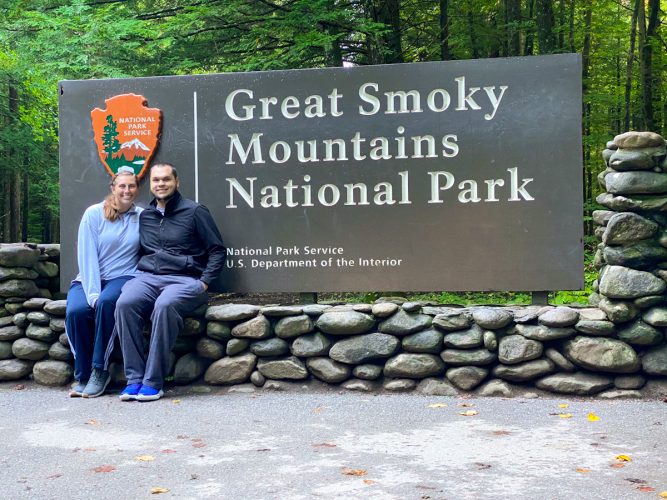 This is not a trail to choose if you're seeking quiet and solitude. It literally links the outskirts of Gatlinburg to the most visited national park in the country! Rather if you're itching to go biking or want to bring your furry friend along for a walk, this is the trail for you.
You can either start at the visitors center and make your way to town or vice versa. The trail is relatively flat and runs through the forest along side the West Prong of the Little Pigeon River. Keep your eyes peeled for remnants of foundations and chimneys and other historical sites along the way. 
Whether you're short on time, or simply looking for a hike the entire family can enjoy, I hope you get out there and enjoy everything the Smoky Mountains have to offer!
Looking for more things to do in Gatlinburg and the Smoky Mountains??