Saturday morning we reluctantly pulled our RV out of Lighthouse point, the screams, laughter, and coasters growing quieter as we drove onward. We spent the entire week at Cedar Point in Sandusky, Ohio. Cedar Point is an amusement park that is located on a Lake Erie peninsula. It makes it feel as if the park is on it's own private island. The park features 71 rides, 17 of which are roller coasters- it's no wonder the park has been dubbed "America's Roller Coast". 
This post contains affiliate links. If you make a purchase through one of our links we may make a small commission at no extra charge to you. Thanks!
We didn't originally plan to stay at Lighthouse point but at the last minute changed our minds and decided to book it. We are so glad we did too! The campground was a bit expensive and was definitely something we splurged on (we normally don't spend this much on camp sites) but in our opinion it was worth it. 
As I mentioned before, we definitely splurged on this campground 😬 For our standard back in site we paid $850 for 7 days or roughly $121 per night 🤯 (For reference our stay was in July of 2020. We arrived on a Saturday afternoon and left on a Saturday morning.)
So was it worth it? For us it's a resounding
YES!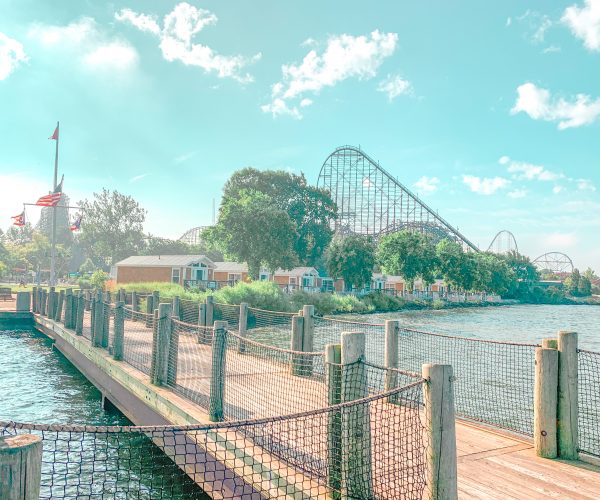 For us it was all about convenience and making the most of our time at the amusement park. To be honest, we were hardly at our RV and maybe used the pool/hot tub once during our entire stay. The sites were nice and level and super big rig friendly (I think our site was around 70 or 80 feet long by 12 feet wide). We had plenty of room to park our 40 ft. fifth wheel and our huge truck with room to spare. Our favorite part about staying there was quick access to the park. It's a quick 10 minute walk or you can drive and park in the parking lot too (which we started doing as the week went on and we were getting tired). We were able to quickly leave and re-enter the park so we could go back to the RV and let the dogs out for a bit or just chill out and cool down in the AC for a half hour or so. Most of the other RV campgrounds in the area are at least a 15 to 20 minute drive from Cedar Point, if not more.