The holidays are right around the corner which makes it the perfect time to team up with some of my favorite bloggers and friends for another week filled with holiday recipes and DIY craft ideas! I don't know about you, but this time of year brings out my inner child. I love curling up in front of the fire with a coffee, my fuzzy blanket & socks, and a classic Christmas movie. And if you're watching a Christmas movie you'll need a snack to go along with it. Time to channel your inner Buddy the Elf, we're making a sweet and salty snack even the reindeers love.
If you're looking for an EASY no bake recipe, look no further! Reindeer Chow is the perfect dessert or snack for a holiday party, gifting to friends or family, or even just fulfilling your peanut butter / chocolate cravings. What I love about this recipe is that it's so quick and easy that you can whip it up at the last minute if needed. It's also super customizable. You can choose what types of things to mix in with the main base. I chose to add M&M's, pretzels, and red & green sprinkles to give it more of a festive feel. You could add in peanuts or your favorite cut up candy bar too. The possibilities are endless (again channel your inner Buddy the Elf) go wild! Philip prefers his without the extras added in (Puppy Chow or Muddy Buddies) so of course I ended up making us each our own bowl 🤣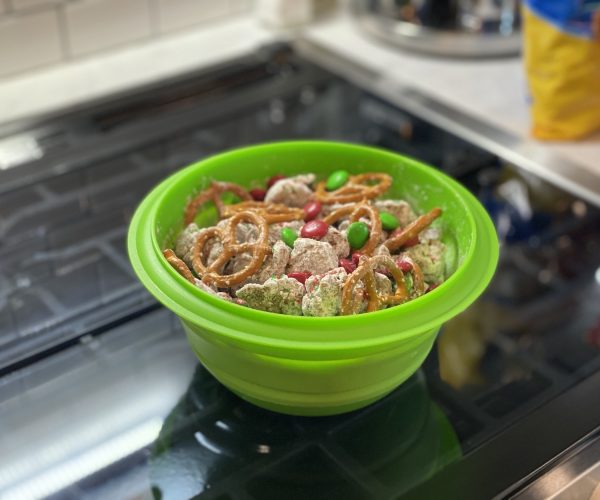 I absolutely love gifting people with treats during the holiday season and this would be the perfect thing to make a giant batch of and hand out to friends, family, coworkers, and neighbors. You could get some cute Christmas/Holiday themed bags or tins to pass them out in. You may want to give a warning on how addictive this stuff is though! Trust me, one handful of this stuff can easily turn into four or five. Maybe we should rename it to Reindeer Crack 🤪 
How to make Reindeer Chow:
To make Reindeer Chow you'll start by melting the chocolate chips, butter and peanut butter on the stove until smooth. Once done, mix in vanilla extract and salt. 
You'll pour the Chex into a large bowl (you'll want a really large one so you can more easily mix your cereal with the peanut butter and chocolate). Pour your chocolate mixture over top of the cereal and give it a good stir. 
Next, you'll add in the powdered sugar to coat all the Chex. You can also use a ziplock bag to coat the Chex in powdered sugar. Sometimes shaking it in the ziplock bag is easier than trying to stir it in (especially if you have a small bowl to work with). 
Once your Chex is coated in all the powdery goodness you can add in your mix ins (or not, it's good even without them). Feel free to choose different mix ins than I did. I chose to add pretzels, M&M's, and holiday sprinkles. You can easily omit the holiday sprinkles and M&M's if you'd like or change the colors to match whatever holiday is being celebrated.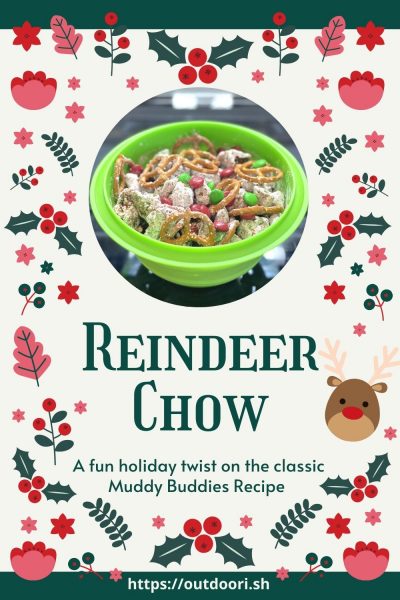 Reindeer Chow
Reindeer Chow is a festive twist on the classic Muddy Buddy Recipe. Super EASY no bake recipe that's perfect for gifting friends, family, coworkers, and neighbors during the holdiay season. Customize with your own mix ins and gift in a tin or holiday themed bag to give it even more holiday cheer!
Ingredients
2

cups

semi-sweet chocolate chips

1 1/3

cups

creamy peanut butter

1/2

cup

unsalted butter

1

tsp

salt

2

tsp

vanilla extract

12.8

oz box

Chex (you can choose whichever variety you like)

2

cups

small pretzel twists

3

cups

powdered sugar

holiday M&M's

to taste

holiday sprinkles

to taste
Instructions
Melt choclate chips, peanut butter, and butter over medium/low heat. Stir frequently until smooth and combined.

Remove from heat. Add the vanilla and salt. Stir to combine.

In a large bowl add the Chex. Pour The chocolate/peanut butter mixture over the top and stir well to combine.

Transfer the mixture to a large plastic bag (it's best to do this a little at a time). Pour in a some powdered sugar. Seal bag and shake, shake, shake! Continue to do this until all your chex mixture is coated in powdered sugar.

At this point you can add in your M&M's, sprinkles, and pretzels. Add however much or little as you'd like. You can even get creative and add in your own additional mix ins such as your favorite chopped up candy bars or some salted peanuts.

Distribute the Reindeer Chow into holiday tins or bags to distribute to your friends and family.
This post contains affiliate links. If you make a purchase through one of our links we may make a small commission at no extra charge to you. Thanks!
Make sure to check out each of the other ladies' recipes and crafts this week down below! There will be a new one each day this week. Monday Nov. 30th- Sunday Dec. 6th.