Hey there! Today I just wanted to say thank you for stopping in and share a bit about our story with you! A question we get asked a lot is:
To answer this question, let's rewind a couple years.
I can't pinpoint exactly when or how it got brought up. Possibly after an afternoon of binge watching Going RV on the travel channel? Regardless Philip starts telling me we should look into doing this in a few years. In true Philip fashion, he went into way too many details for just springing the idea on me. 
My mind was racing, it sounded so exciting and adventurous, but also quite different from the lifestyle we were living. Sure, I had been camping before, but never in an RV. It was just difficult to wrap my head around how we would make it work with all our stuff.
All the what-ifs started to creep into my brain and made me nervous. For awhile, I was even opposed to making such a big change. In other words, I was overwhelmed! We decided to put the idea on a back burner- still. However, it was still there at the back of our minds waiting for the right moment. 
Over the next few years, we slowly made changes with the idea of one day living in an RV in mind. We moved from a two bedroom, 1080 sq ft apartment to a one bedroom 770 sq ft apartment. Slowly we got rid of and sold things we no longer wanted or needed. 
After living in the one bedroom apartment for nearly two years, we decided it was time for yet another change. Deciding we could go smaller yet again. So, we packed up our stuff and moved yet again, this time to a smaller 659 sq ft studio apartment.
Once we settled in we continued to purge ourselves of items we no longer had use for. Between 2016-2019 we attended rv shows and sales here and there to do some "research" and get an idea of what we were looking for. At the time, it all seemed like some far off dream that I was uncertain would ever be reality.
In 2019 we attended the Austin RV Expo. We had an idea of what we were looking for but wanted to narrow down our options a bit more. We went in with the mindset that we would be looking to purchase something maybe a year or so out. Well, we really got things narrowed down! Near the end of the day we were sitting in a Dutchmen Voltage looking over all the different brochures and discussing which models and options we liked and got it narrowed down to about 2 favorites. 
The Momentum by Grand Design and the Voltage by Dutchmen were our two favorites. As we were sitting there, a salesman from ExploreUSA approached us and got to chatting with us. He told us he had a 2018 Voltage that was very similar to the one we were sitting in that they were trying clear out to make room for the newer incoming models. Honestly, it was a really great price but we were unsure if we would even be approved for a loan and we weren't quite ready to buy anything that day. At least that's what I thought, until Philip said "let's go ahead and run the credit and see what happens!"
Of course we didn't find out immediately whether we had been approved, as it was late on a Sunday afternoon. A day or two later some phone calls and paperwork we were approved for a loan. We were not about to buy an RV we had never even seen or stepped foot in so we made the couple hour trek down to San Antonio and took a look at our soon to be home. Immediately, we could tell that it matched our needs perfectly.
As the days counted down until our lease was up on our apartment, we continued to sell furniture, electronics and other items we would no longer need (I still feel like we have too much stuff but we've come a long way!)We prepped the Rv for our imminent move in. Removing the sofas from the garage/office area we replaced them with hand built desks for us to work at. There have been many additions and upgrades to make the space feel more like home and of course a never ending list of projects and maintenance to do on the RV!
We spent the first couple months in the RV stationary in Austin while we settled in and adjusted to our new life! In October 2019 we hit the road and have been traveling since!
Back to that question though,
why live in an RV?
For us it's several things:
Of course, traveling full-time is not always glamorous. A lot of times things go wrong or break and there is always some sort of maintenance to be doing just like a normal home. There are ups and downs but it's all apart of the journey!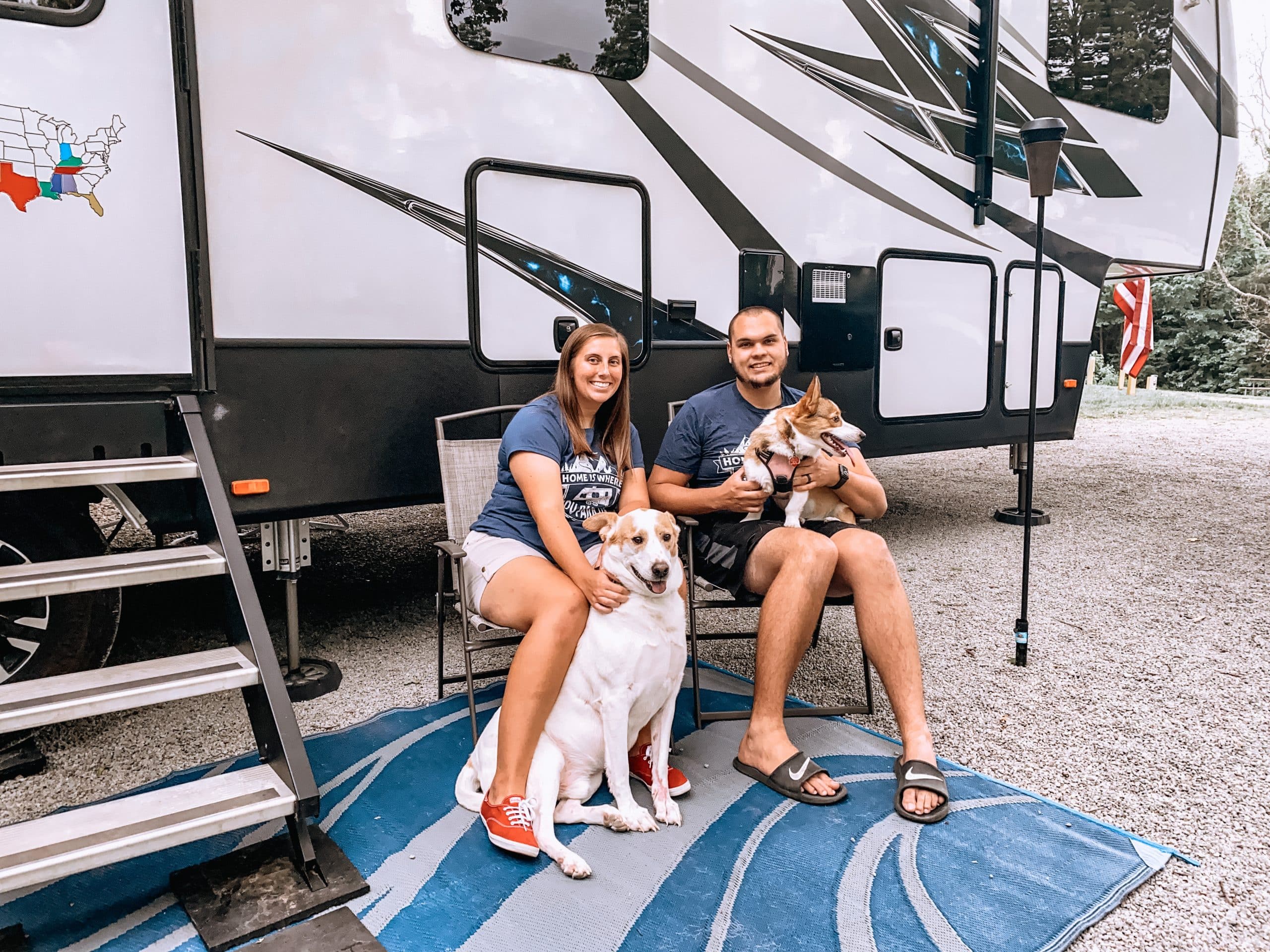 This post contains affiliate links. If you make a purchase through one of our links we may make a small commission at no extra charge to you. Thanks!