It's essential to pet-proof your RV screen door to avoid unexpected mishaps and damage. Unfortunately, pets and RV screen doors don't always play nice. Those enthusiastic paws and sharp claws can lead to a bit of trouble. They spot a squirrel or a fellow pet, and next thing you know, you're left with a busted RV screen door. Oops!
*This post may contain affiliate links. As an Amazon Associate, I earn from qualifying purchases. I may receive a small commission when you make a purchase using my links at no extra cost to you. Thanks for your support!
How Do I Pet Proof My RV Screen Door?
Luckily, there are several ways to pet-proof your RV screen door, ensuring it stays intact and serves you well on your adventures. Let's explore some of the best RV pet screen door protectors, including a few DIY options for those who love getting hands-on!
The Lippert Screen Defender is not only a popular choice among pet owners but is also our personal favorite. This product offers robust protection with its powder-coated, heavy-duty aluminum frame, specially designed to fit seamlessly into the existing channels of Lippert screen doors. It serves as an additional safeguard against your pet's curiosity and prevents them from scratching or pushing through the screen.
Available in four sizes – 24", 26", 28", and 30", it's crucial to follow Lippert's measuring instructions to ensure a perfect fit for your screen door. The best part is that this is an easy RV upgrade, as it installs quickly without the need for any extra hardware. However, it's worth noting that the Screen Defender won't be an option if your RV doesn't have a Lippert screen door.
Camco RV Screen Door Deluxe Grille
If you're looking for an adjustable solution to protect your RV's screen door, the Camco RV Screen Door Deluxe Grille is a top contender. Crafted from heavy-duty aluminum, this grille not only offers durability but also adjustable width, accommodating screen doors ranging from 20 inches to 32 inches in size. The package includes installation hardware, making it convenient and hassle-free to set up.
Duo-Pets RV Screen Door Protector
The Duo-Pets RV Screen Door Protector is an innovative solution that offers an easy and budget-friendly way to safeguard your RV screen door from potential pet damage. This protector, made from durable plastic, is designed to fit all RV screen doors and can be easily trimmed to size with standard scissors. The adorable paw print design and ventilation holes add a touch of style and functionality.
The installation kit, including double-sided tape, makes setup a breeze. It's a convenient, USA-made solution that ensures your pets and your RV screen door coexist harmoniously. Stick it on, trim it to fit, and continue your RV adventures with peace of mind.
DIY Pet Proof RV Screen Door Protectors
If you prefer a hands-on approach, you can consider one of these do-it-yourself solutions.
When it comes to DIY pet-proofing, plexiglass is a versatile and effective choice. To get started, measure the dimensions of the bottom of your screen door, then cut a piece of plexiglass to match. Once cut to size, attach it securely with screws to the door frame (or attach with velcro for a non permanent solution). 
The beauty of plexiglass is that it creates a transparent barrier that allows natural light to filter through, maintaining a bright and airy feel inside your RV. The down side is that plexiglass can easily get smudged up from your dog's nose requiring more cleaning. If you're looking for instructions, this post walks you through step by step on how to add your own plexiglass to your RV screen door.
Decorative Aluminum Sheets
Adding a touch of style and reinforcement to your RV screen door is a breeze with decorative aluminum sheets. These sheets can be easily attached to the lower part of your screen door. Beyond the practical advantage of protecting the screen from pet-related damage, these aluminum sheets can elevate the aesthetics of your RV.
These sheets can be found at home improvement stores like Lowe's and Home Depot and come in various designs and patterns, allowing you to personalize your RV door while keeping your pet in check. Here's an excellent example of how you can make your own screen protector with aluminum mesh sheets.
If your pet has a knack for scratching and damaging window screens, consider replacing the standard screen with a pet-proof variety. These specialized screens are designed to withstand the wear and tear that pets can inflict. They are more resistant to tears and punctures, providing an extra layer of security while allowing you to enjoy the view and fresh air without worry.
If you decide to go this route we'd suggest combining it with one of the other methods for pet-proofing your RV screen door!
How to Replace an RV Screen Door that was Damaged by a Pet
In some cases, despite your best efforts, your pet may manage to damage your RV screen door. When this happens, it's important to know how to replace or repair it
Measure and Remove

: Measure the dimensions of your damaged screen door and remove it from its frame carefully.

Purchase a Replacement Screen

: Purchase a new screen that matches the dimensions of your old one. Ensure it's a pet-resistant screen if you're worried about future damage.

Reassemble

: Carefully reassemble the new screen into the door frame. You may need a spline roller and spline cord to secure the screen properly.

Secure Your Pet-Proof Solution

: If you've opted for a pet-proof solution like the ones mentioned earlier, make sure to install it properly to avoid further damage.
Additional Tips for Pet Proofing Your RV Screen Door
While safeguarding your RV screen door is essential, it's equally important to consider a couple of additional precautions to prevent your pet from accidentally slipping out the door.
Strategic Handle Placement: RV screen doors typically lack a locking mechanism, making them susceptible to being opened by pets. To prevent accidental escapes, one smart move is to pull the outside foldable grab handle over the screen door.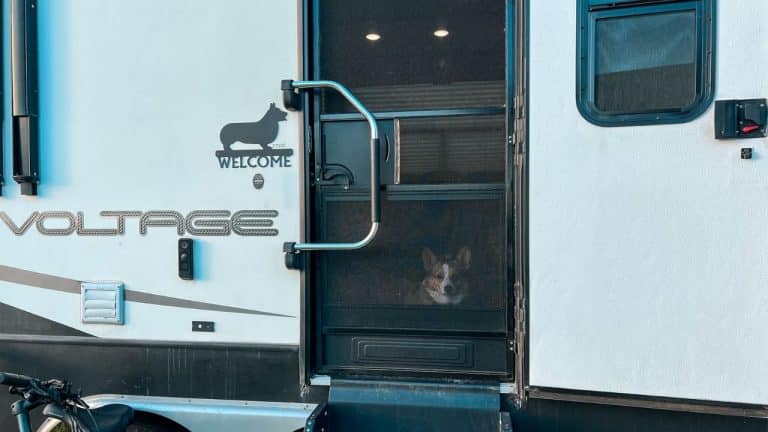 This not only keeps your pet inside but can also serve as an effective barrier against curious toddlers or small children attempting to open the screen door. From the inside simply slide the plastic piece over, reach out and pull the handle in and then slide it back in place.
Pet Gates: Creating designated pet-friendly areas within your RV is a wise approach. Installing pet gates can help establish boundaries and ensure your furry friend stays in approved zones. Placing a pet gate in front of the screen door adds an extra layer of defense, making it less likely for your pet to make a quick exit when the screen door is in use.
Protect and Pet Proof Your RV Screen Door
So, there you have it – the key to successfully pet-proofing your RV screen door and ensuring your furry friends stay safe and secure inside your home on wheels.Traveling with pets is an absolute blast, and with a few simple adjustments, you can enjoy every moment without worrying about potential RV screen door damage and mishaps!
Have you stumbled upon a clever way to keep your pets from damaging your RV door screen? Share your tips and stories with us in the comments below!