Ohiopyle State Park boasts over 100 miles of hiking trails in the Laurel Highlands region of Pennsylvania. The draw for many outdoor enthusiasts is the 14 miles of the Youghiogheny River that provides some of the best white water rafting in the Eastern US. In fact, Ohiopyle or "Ohiopehelle" is believed to be derived from Native American words meaning "white, frothy water".
There are several kayak and white water rafting outfitters in Ohiopyle. Due to Covid-19 many of these were still closed when we visited at the end of July 2020. We did not have nearly enough time to explore the park as we would've liked (a few hours one evening after work was not enough!). So, we really had to narrow down what we wanted to do and see in the park. There was a possibility of severe thunderstorms, so we decided not to venture too far from the trailheads.
You can access 3 different observation decks from the Visitor Center which all have great views of the falls. If you're lucky like we were, you may even get to see kayakers go down the waterfall. The falls span the entire width of the river and are a 20-foot drop. It's no wonder this is one of the most photographed tourist attractions in the Laurel Highlands. Right across the street from the falls is where the town of Ohiopyle is situated. It's such a quaint, small little town that looks perfect to take a stroll through.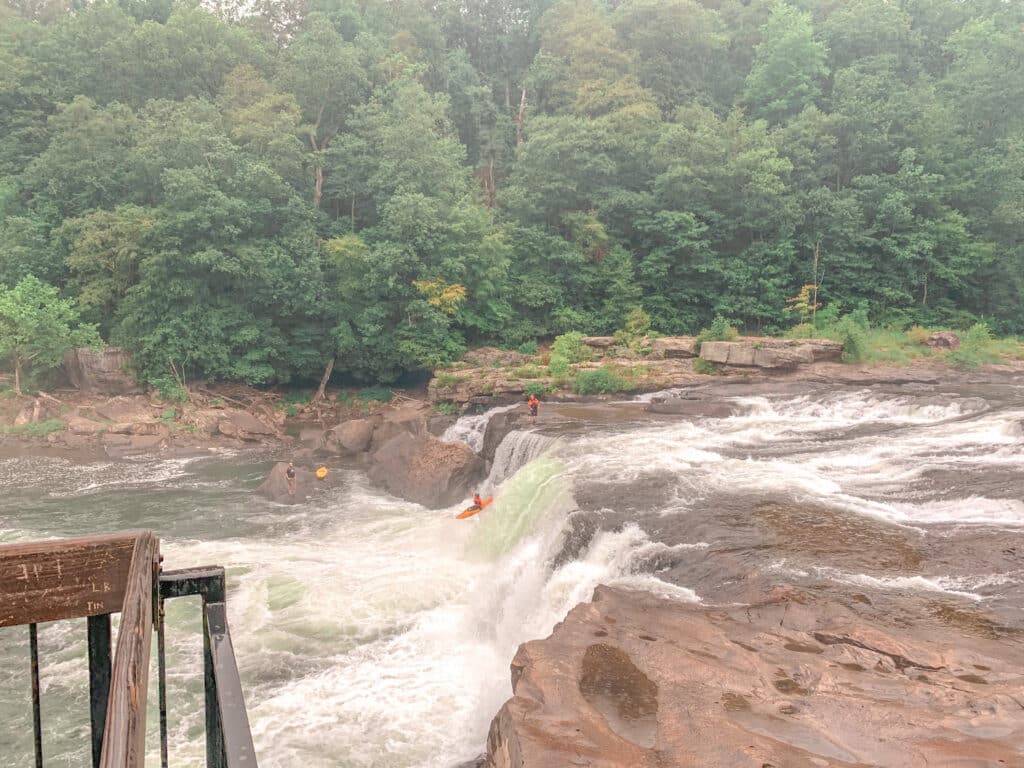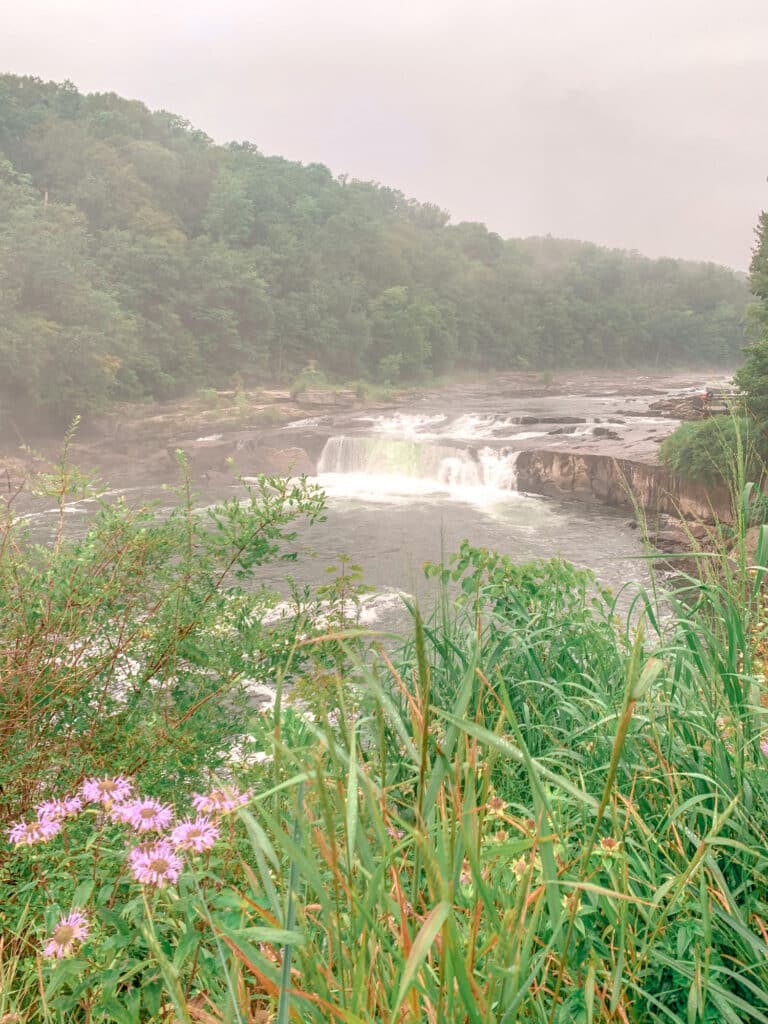 Our next stop was the natural water slides. This is just a couple minute drive from the Ohiopyle falls. You could even walk there if you wanted, but it was raining so we drove. You can sit down in the Meadow Run creek bed and ride the water down the slides. This in theory sounded really cool and looked awesome from videos we saw online, but in reality, didn't meet our expectations.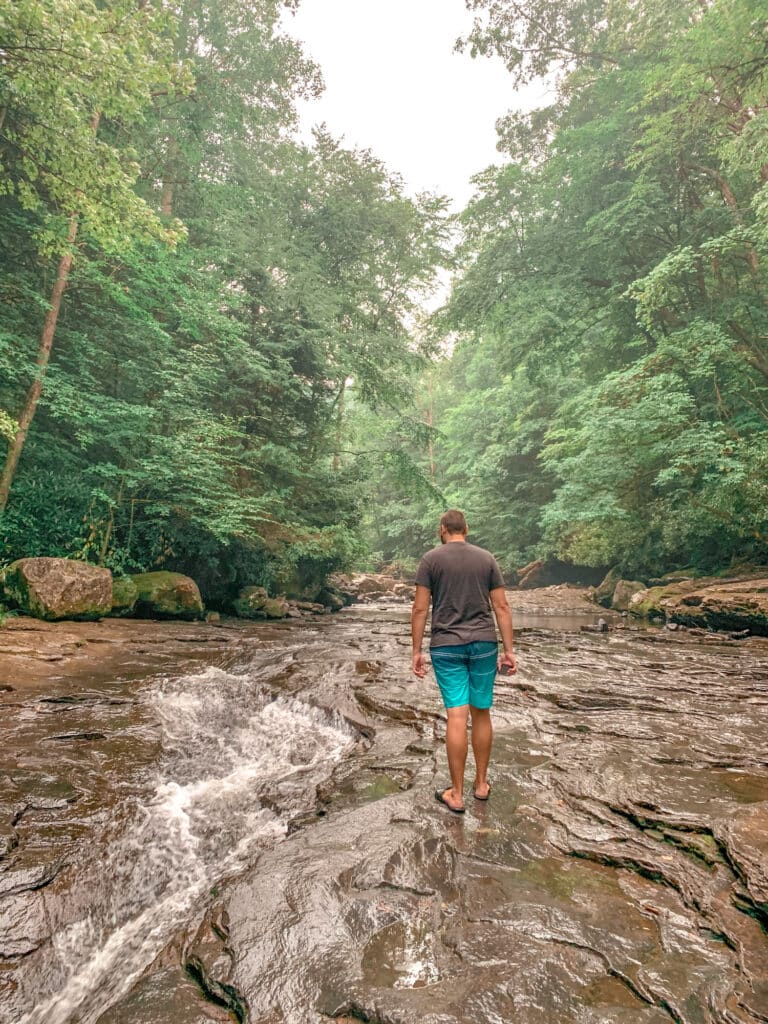 Philip was the one brave enough to attempt going down the slides and it was a fail! From what he said sections of it were really smooth but most of the time he was just hitting rocks. Most of the way down he had to use his hands to move himself forward since there was not enough water. I think we came at a time when the water was lower, and this might have been a better experience had the water levels been higher.
That being said, it was still a neat area to explore. If you continue further upstream you will find rock climbing areas. Even though we were a bit disappointed by the slides, it was still fun and the water was refreshing! If you visit, make sure to be careful as the rocks are extremely slippery! We both fell a few times just walking.
Make sure to check out the video at the end of the post to see how much of a struggle it was to get down the "slide" (We cut out several parts at the beginning because it took forever to get started going down).
Just a bit further from the natural slides is Cucumber Falls. Cucumber Falls is a 30-foot bridal veil waterfall. It's a short walk from the trailhead, down some steps to the lookout.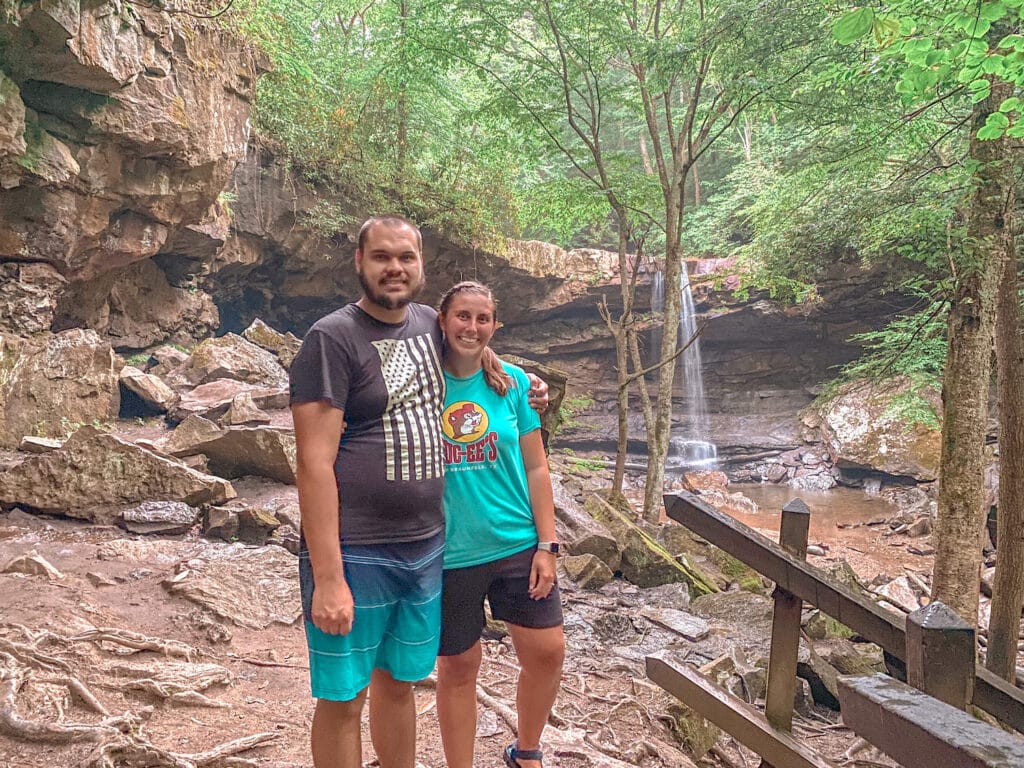 If you're feeling extra adventurous, you can get closer to the waterfall by climbing down some rocks. This allows you to get up close and even walk behind the waterfall. This was probably my favorite spot we visited here. I enjoyed figuring how to climb down to the waterfall and the water was nice and cold on my feet!!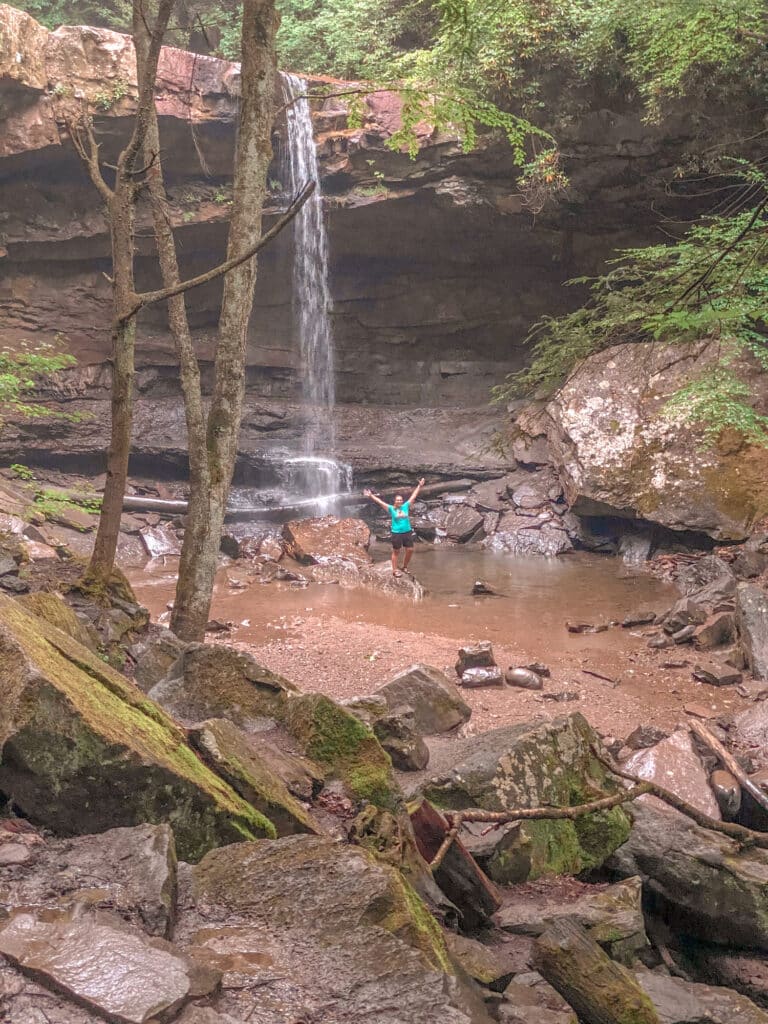 We were tired and hungry at this point, so we decided to find some food!! We chose Falls City Pub, where we feasted on a steak sandwich and smokehouse mac n' cheese. Yum!
We barely scratched the surface on all there is to do in this state park but if you're in the area we highly recommend checking it out! There are several more waterfalls in the area to visit too. For more information about this park visit Ohiopyle State Park's website.
This post contains affiliate links. If you make a purchase through one of our links we may make a small commission at no extra charge to you. Thanks!