The Morryde PatioEX is an inflatable tent that you essentially add on to the patio of a fifth wheel/toy hauler. It is designed with the idea of expanding your living space while protecting you from wind, rain, sun and bugs, while also giving some additional privacy.
Our Dutchmen Voltage fifth wheel has a pull down screen but not a three seasons door like many of the toy haulers have, which makes it more difficult to leave the patio down a majority of the time. Having the patio was one of many reasons we decided on a toy hauler, so finding a solution that would allow us to leave the patio down more often was a big priority for us. 
Well, we had several issues with the PatioEx. We even ended up sending the first one back and getting a replacement. The replacement tent had just as many issues. They offered to send us a third one but we were just done with it at that point. I will say Morryde had really great customer service and was willing to work with us on it. After the second tent, we ended up sending it back and getting a full refund. (Morryde claims that none of their customers have had these same issues which is hard to believe considering we tested two different tents and they both had issues).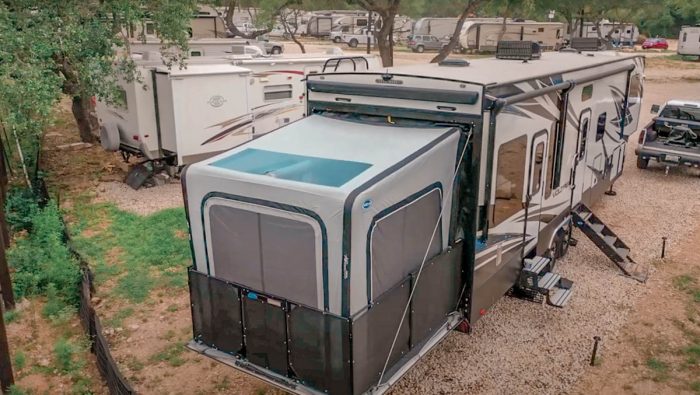 Setup:
Setup is fairly easy but may take a bit longer your first time setting it up. There are a few straps that strap onto the patio. There is a heavy duty groundsheet that helps keep a waterproof base. From their you are essentially just inflating the beams. Tear down is basically just the opposite of the setup process. 
In the several weeks that we used the tent we encountered different types of weather from hot 90-100 degree heat to rain and wind. We got to really put it to the test.
Pros: 
Tons of additional living space (Gave us about 8 extra feet)
Helps with keeping cooler air in and hot air out 
Additional privacy 
Can walk barefoot on it without burning your feet
Cons:
We had to keep refilling the beams
Water pooled up on the "roof" of the tent making it so we had to keep pushing it off
Water leakage along part of the seams
While it helps some with keeping cool air in and is better than having nothing, it did get pretty toasty in the garage on those hot summer days. 
Flaps that attach with magnets need to be stronger
Overall, if the problems with the leaking and the water pooling were fixed we could deal with the rest of the problems because they're not as big of a deal to us personally. We really wanted to love this product but for the time being it just doesn't fit our lifestyle (it may be a good fit for you if you're a weekend camper but for full timing it doesn't work well in our opinion) and for $1200 we shouldn't have to jerry rig the tent into working properly. If Morryde and Vango were to go back to the drawing table and fix some of those issues we would definitely be willing to give it another shot.